Sedation Dentistry Near You
Do you "hate needles" or experience anxiety when going to the dentist? If fear or a bad experience in the past has kept you from getting the dental care you need, sedation dentistry may provide the solution you need.
Current River Family Dental offers a full range of sedation options to our patients. Learn more about how sedation dentistry can transform your next trip to the dentist. Contact us today for more information on sedation dentistry in Thunder Bay.
CONSULTATION APPOINTMENT
LAUGHING GAS (NITROUS OXIDE)
ORAL SEDATION
GENERAL ANAESTHESIA FOR KIDS
If you are anxious about going to the dentist or have a child that feels intimidated when sitting in the dental chair, one of our sedation options can make your visit more comfortable and relaxing.
ARE YOU A SEDATION DENTISTRY CANDIDATE?
Are you nervous about coming to the dentist?
Are you scared of needles or the drill?
Do you have a severe gag reflex?
Did you have a previous bad experience?
Has it been years since you have been to the dentist?
Do you hate going to the dentist?
Current River Family Dental is a specialty practice offering several options of sedation dentistry. We can provide laughing gas or oral sedation, general anaesthetic for children and IV sedation for adults. You can sleep soundly and be confident that our highly trained staff will complete all the dental treatment you require safely and effectively.
Please call to set up a consultation with Dr. Mason, our Registered Nurse and our Treatment Coordinator to discuss the best option for you.
Consultation Appointment Information
The first step to administering sedation is to determine what level of sedation is right for you because each patient's dental and sedation needs are unique. The appointment will be approximately 1 hour in length and will include a detailed medical history and physical assessment.
All aspects of your sedation appointment will be discussed, and any questions.
Consultation fees are $150 for adults aged 18 and older, $125 for children under 18 years of age. Fees are due on the day of the appointment. If you have dental benefits, we will gladly submit your claim for you. Reimbursement will be made to you directly from your insurance if the company covers the consultation.
Please call to reserve your consultation with our office to discuss the best option for you.
Nitrous Oxide Information
Nitrous oxide or "laughing gas" is a gas that you breathe in through a mask over your nose. The amount of laughing gas provided is closely monitored and controlled by the dentist or a registered nurse.
Within a few minutes, you will begin to relax and may not even recognize minor pain or irritants so that the dentist or hygienist can complete your dental treatment while you are completely comfortable. The effects of the laughing gas rapidly wear off once the mask is removed and you will be able to drive yourself home and continue with your daily routine.
Oral Sedation
Oral Sedation can also be used similar to Nitrous Oxide to provide light to moderate conscious sedation (awake sedation.) As with Nitrous Oxide, Oral Sedation alleviates the fears and anxiety that can be associated with dental treatment. Oral Sedation is particularly suitable for those patients unable to nose breathe or who simply do not like having the breathing hood on their faces.
Oral sedation can also be used in conjunction with Nitrous Oxide to provide a greater degree of sedation than either one alone. In addition to providing relaxation, oral sedatives also tend to provide an amnesic effect so that patients often don't even remember having treatment.
Patients cannot drive themselves home afterwards and will not be able to return to their daily routines for 24 hours.
The patient's comfort and safety are closely monitored throughout the appointment by one of our Registered Nurses. Patients must have a ride home and will not be able to return to their normal routine for 24 hours.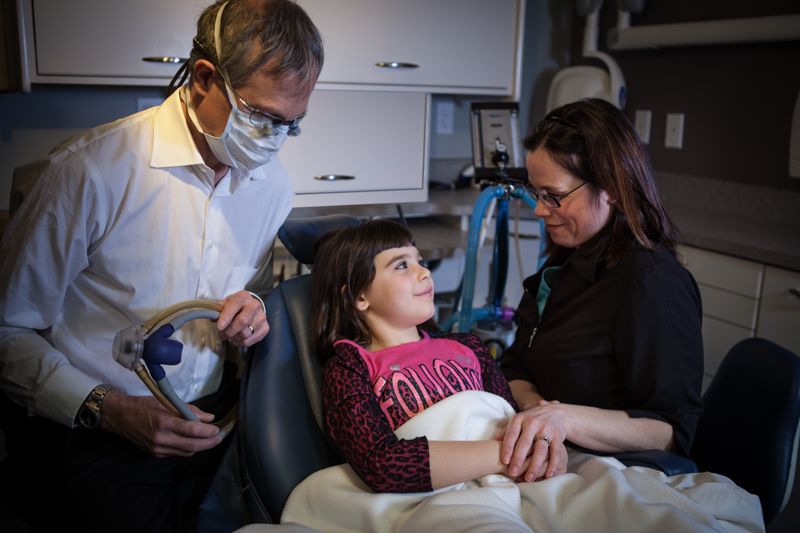 General Anesthesia For Kids
For children that are either too young or anxious to co-operate for dental treatment or that require extensive treatment, general anaesthesia can be a stress-free way to provide treatment. General anaesthesia allows the patient to be completely asleep, such that there is no awareness of the dental treatment. Dr. Mason is a certified dental Anaesthetist, licensed to administer this type of anaesthesia in Thunder Bay.
General anaesthesia is achieved through a combination of inhalation gases and intravenous medications. Once asleep, the patient is fully monitored to ensure utmost safety throughout the treatment
IV Sedation For Adults
IV sedation is a very popular choice of sedation for adults who want to be "completely asleep" for treatment. If you do not want to remember anything and have your anxiety significantly reduced, IV sedation could be your best option. Sedation is achieved by injecting medications into an Intravenous line. With most patients, IV sedation induces a very deep level of sedation such that they are completely unaware of the treatment being provided.
As with general anaesthesia, patients are carefully and continually monitored throughout the procedure until all treatment is completed and they wake up.